I actually can't wait to show you all the pictures... so I think i'l get right to it! =P (btw, if you don't like LOADS of pictures then I suggest clicking off this page right now! =P) Hehe enjoy! =]


So, this layering frenzy started off with one coat of MUA's absolutely gorgeous shade 1:



Next I topped it off with one coat of the freakishly stunning Ozotic Pro 505:
*
squealing like a mad 3 year old
*
Okay okay I need to breathe!!! Lol =P
My biggest worry about this polish was that it wouldn't be all duo-chrome-ey on my nails.... but that fears been chucked out of the window. =P
Here's a gif I made to show the awesome colour change effect this polish has (btw its a million gazzillion times better in real life!)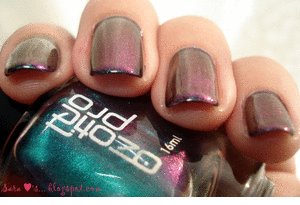 The colour goes from a deep gold, to red, to plum, to violet, to teal, to blue, to green to.... aagh its just wayy too cool! lol =P
Btw, the layering doesn't stop here! Butttt I think Blogger may murder me if I add any more pictures, so that's why the title says part 1!
Part 2, showing the finished mani and final layer, will be shown tomorrow =]
Do come back and visit me then to see the end result =]
Before I go I thought I'd add that yesterday the lovely Sarah of Samarium's Swatches asked me where I bought my Ozotic Pro's from. Well, the only place I know of that sells these (and of course where I got mine from) is Picture Polish
. They ship internationally and OMG their customer service is absolutely brilliant!!! Seriously they personally email you and they'r so sweet =] I had an entire conversation with them about nail blogs lol!
It made the entire shopping experience so much better =] I mean the amount I paid for these polishes (the most I'v ever paid in my entire life for two bottles lol) you'd expect that right?! =]
Okies then, i'm off! Hope to talk to you lovelies tomorrow =]
♥♥♥