*This is a scheduled post since right now I am most likely going mad running around the house like a headless chicken trying to pack up last minute things.... and then realising i'v forgotten my toothbrush and not being able to find it anywhere..... and then suddenly realising that it's actually already packed.... but then realising i'v forgotten something super super important and I seriously can't find that anywhere.... =P*


Time to show you guys the last part of this epic-ness =P Warning, there's a heck load of pictures coming your way!!!


Are you ready?!


Right so the final layer which I added to yesterday's nails is Ozotic Pro 528 (Elytra) =]



How freaking stunning right???!!!
I ♥ the way the colour shifts in this polish! It turns into literally any colour.... seriously, you name it, it turns into it! =P
I just adore this glitter sooo much.... =] Its not that packed in the bottle like how I expected though, and this is two coats layered on.
Click on the photos above.... that glitter is calling upon you! =P
See how in this close-up there's green in the middle and purple on either side? Well that's how the polish looks most of the time if you manage to keep your hands still for long enough! Its a teal/green on the center of the nails and on the curved edges on the sides of the nails its a deep yummy plum colour =]
Now here's a Gif I made just to show the incredible colour changing quality this polish has =]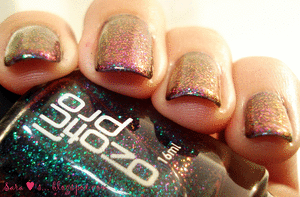 AWESOME OR WHAT??!!!! =P Lol seriously I'm loving this mani so much =]
Alright so that's all your going to see from me for a while now (that's another reason for the masses upon masses of photos! =P).... i'm off on holiday from tomorrow morning and my page will be taken over by a load of super hip girls who are going to keep you entertained while i'm away =]
Tomorrow's guest blogger will be the absolutely lovely Eileen from The Sneakerette, so make sure you don't miss her post!!!
Take care everyone and enjoy your week! Oh and don't forget to share your thoughts with me on this epic mani!!! =D
♥♥♥